Highlights of Giripremi's Adventure Club
This club will consist of Online Sessions such as:
Interactive Sessions with Accomplished Mountaineers / Nature Experts
Gripping Stories from Giripremi's Himalayan Expeditions
Online Physical fitness Session etc.
The registered participants will be added in a separate WhatsApp group where in all the necessary updates will be shared.
We will be also be announcing field activities like Trekking in Sahyadris, Rock Climbing Courses as per the Govt. directives.
How to Register ?
You can register monthly for this club. Monthly Charges INR 100.
Please click on the below mention button to register.
Oct 2020 Schedule
11th Oct (Sunday)
Live Interaction Session on Climatic Conditions (हवामान परिस्थिती)
by Abhijeet Ghorpade
A passionate writer on issues like Weather/Climate, Water, Environment etc
Environmental Journalist
Currently working as a Editor - Bhavtal Magazine
Recipient of Ramnath Goenka Award for Excellence in Journalism in 2010 by then President Mrs. Pratibha Patil.
18th Oct  (Sunday)
Webinar Series - Introduction to Backpacking
by Priyanka Chinchorkar, Senior Mountaineer, Giripremi
25th Oct (Sunday)
Online Fitness Session
by Giripremi's Everesters and Accomplished mountaineers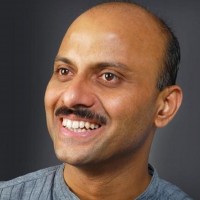 Past Sessions of the Club
Giripremi's Founder-President Ushapraba Page and 8000er Expedition Leader Umesh Zirpe welcome you all to join the Adventure Club.
Live Interaction - Sahaydri Mountains
Giripremi Adventure Club's First Activity of the club took place with immense response. Giripremi's senior mountaineer & Medical Officer, Dr. Sumit Mandale, shared a detailed presentation on 'Sahyadri Mountains' on 6th Sept 2020. He discussed the evolution, geography, biodiversity, socio-economic influence of the mountain range on Maharashtra, Rock Climbing potential in Sahyadri and ways to undergo systematic training for the same. 
Online Fitness Session - by Giripremi Mountaineers
on 20th Sept 2020, Giripremi's Bhushan Harshe ( Everest & Kangchenjunga summitter) & Amit Talwalkar ( Mt. Cathedral expedition member & Marathon runner) conducted an online fitness session for adventure lovers. It is a wonderful opportunity to do workouts under the guidance of highly experienced mountaineers.  
Do register to be part of more such sessions!