Mt. Everest.. On top of the world.. also known as third pole of the earth.. 8848 mtrs! Ain't that enough to blow your minds and pack your bags and hit the trails??
Schedule :
Batch 1 : 16th Apr to 1st May 2021
Batch 2 : 30th Apr to 15th May 2021
Overview
Itinerary
Fees Includes
Fees Excludes
Gallery
Reviews
Registration
Resources & FAQs
Schedule : Sept-Nov 2021
Trek to Everest Base Camp… Mt. Everest.. On top of the world.. also known as third pole of the earth.. 8848 mtrs! Ain't that enough to blow your minds and pack your bags and hit the trails?? Let me tell you about Everest Base Camp, EBC as its popularly known, it isn't just a physical trek, but a journey along a well-marked trails with some of the mightiest, beautiful and even notorious mountains on the earth, following the footsteps of legendary mountaineers, pleasant hospitality and mountain delicacy of Nepal culture.
GGIM has been conducting this unique trekking programme for over 6 years. Every year more than 100 participants have safely and enjoyably experienced the vividness of Solokhumbhu valley in Everest region. So what are you waiting for? Sign up for a trek along with Giripremi's highly experienced mountaineers.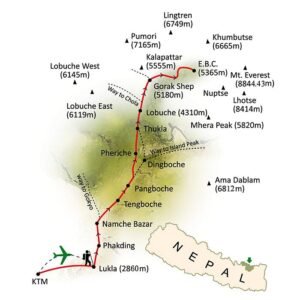 Want to know about Acclimatization??
Go through the PDF here and you will understand all about the process of acclimatization and why it is so important.
We are happy to share with you a perfect 2 month training plan for Everest Base Camp. Follow this module for the two months before the trek to condition yourself fit for the trek. 🙂
Sometimes you might wonder why this trek is so expensive. As a matter of fact, you might come across hordes of companies selling it at a dirt-cheap rates. Have a look at an interesting perspective on Everest Base Camp Trek.
CANCELLATION POLICY:

 If cancellation is made 30 or more days prior to the reporting date of your selected batch, INR 15,000/- will be deducted, and balance amount will be refunded.
If cancellation is made 15 to 30 days prior to the reporting date of your selected batch, INR 25,000/- will be deducted, and balance amount will be refunded.
No refund will be made if cancellation is made within 15 days prior to date of departure.
In case of natural disasters like Nepal Earthquake in 2015, or Covid Global Pandemic, if the entire trek gets cancelled due to Govt. Directives, there will be two options:
Entire amount will be carried forward in the GGIM Subsequent activities.
Nominal administration charges will be deducted and balance amount will be refunded.
Day-wise Itinerary
Itineraries
Day 1
Arrival at Kathmandu
You will be welcomed and greeted by garland on the Kathmandu airport by the agency. Travel arrangements from airport to Hotel in private AC Van. After hotel check in procedure, a briefing meeting is organised for all the participants. All are expected to pack the bags, have dinner in nearby restaurants and sleep early.
Day 2
Drive to Ramechhap - Fly to Lukla (2840 m) & Trek to Phakding (2600 m)
Wake up at 2 AM. Gather at hotel lobby at 2.45 AM. You will be handed over breakfast packets. Travel from Kathmandu to Ramechhap takes about 5 hours. Travel arrangement in similar AC Vans will be made. Once you reach Ramechhap, wait for your turn to board the flight to Lukla. The journey is about 25 mins. Once you reach Lukla (2840 m), have quick snacks and start the trek to Phakding (2600 m). It takes about 3 to 4 hrs to reach Phakding.
Day 3
Trek from Phakding to Namche Bazar (3440 m)
The initial part of the trek includes walk through the nearby villages. A lunch halt at Jorsalle Village. The next part of the trek includes crossing high suspension bridges and finally a steep climb till Namche Bazar. After reaching, take rest and explore the market nearby. Time taken – 4-5 hours
Day 4
Acclimatization Trek Day to Everest View Hotel (3880 m)
You will be going for a hike from Namche Bazar to Everest View hotel. This marks the first glimpse of Mt Everest. You can rest for a while and start you trek back to Namche Bazar. You can spend the remaining day exploring the various shops and cafes in Namche Bazar.
Day 5
Trek from Namche Bazar to Tengboche (3900 m)
Tengboche is a beautiful village situated at an altitude of 3900 m. The trek to this village comprises of flat walking, descending and final ascent after the lunch halt at Phunkithanga. The Tengboche monastery is worth a visit. Time taken is about 6 hours.
Day 6
Trek from Tengboche to Dingboche (4440 M)
You will be crossing through some of the beautiful villages. You will see a scenic view of Mt. Ama Dablam from Pangboche village. You will have lunch in the next village, Somori. Average trekking hour 5 to 6.
Day 7
Acclimatization hike to Nagarjun Hill (5000 m)
This day, you will hike to a nearby hill. You can go till an altitude of anything between 4800 m to 5000 m. If weather is clear you might get a view of Mt. Makalu (world's fifth highest mountain – 8481 m). Also, Mt Lhotse and Mt Ama Dablam are visible. You can rest for the remaining day or explore the village.
Day 8
Trek from Dingboche to Lobuche (4900 m)
The flat trail till Thukla Pass will offer some of the best views of this trek. You will be having lunch at the base of Thukla pass in Thukla Village. Climbing this pass just after lunch makes a gradual climb very tiresome. Once you reach the top, you'll find the pass full of mountaineers' memorials. You can find many famous mountaineers memorials who lost their lives in different expeditions. We usually spend some time at the pass and then proceed to Lobuche. Thukla Pass to Lobuche route is relatively flat. An average trekker takes about 6-7 hours to reach Lobuche from Dingboche
Day 9
Trek from Lobuche to Gorakshep (5000 m) and trek to EBC (5365 m) and back to Gorakshep
This is the day which you will waiting for. The route from Lobuche to Gorakshep comprises of many ups and downs on the dead moraine of Khumbu Glacier. Base Camp is visible once you come closer to Gorakshep. Gorakshep to Base camp is a total glacier walk. On the way, you will be witnessing beautiful views of Mt. Pumori (7138 m) to your left, Mt. Nuptse (7861 m) and of course if the weather is clear, you can see the tip of Mt. Everest on the way. Total trekking time take today will be around 8-9 hours.
Day 10
Climb to Kalapathar (5550 m) and trek back to Pheriche
You will start the climb to Kalapathar early morning at around 4 AM. By the time you reach a flat section, you will get a view of Mt. Everest and sun rays peeping from behind this mighty mountain. You will start you return journey from Kalapathar to Gorakshep and further to Pheriche (4320 m). You have to cross (descend) Thukla Pass and climb down on an adjacent route to Pheriche. Pheriche is small and beautiful village on the banks of Lobuche River. You will take around 6-7 hours today.
Day 11
Trek from Pheriche to Namche Bazar
The trek route takes you through Somori, Pangboche Tengboche villages. You will encounter two steep sections, one before Tengboche and one after Phunkithanga. It takes around 7-8 hours for the trek.
Day 12
Trek from Namche Bazar to Monjo (2835 m)
The trek from Namche from Monjo is not a difficult trek. The maximum trek consists of descending. It will take around 3 hours to reach.
Day 13
Trek Monjo to Lukla (2840 m)
This is the last day of the trek. You will be walking on the same trail as Day 1. You will take around 3-4 hours to reach Lukla.
Day 14
: Fly from Lukla to Ramechhap and Drive to Kathmandu
You will catch the flight to Ramechhap and after landing at Ramechhap, start the journey towards Kathmandu by road. Here, getting an AC vans is a big task. You may end up traveling in a Non AC Van, but we know you wouldn't mind.
Day 15
Rest Day in Kathmandu
Today you can have a sightseeing tour in Kathmandu, or you can rest in your hotels and have a complete leisure day.
Day 16
Departure from Kathmandu
Travel arrangements till airport will be done according to your International Flight timing. See you again…Bon Voyage !!
All airport to hotel transfers at Kathmandu
3 nights stay at Hotel in Kathmandu on sharing basis with breakfast only
Kathmandu – LUKLA transportation by flight
Food, Hot drinking water during the trek
Accommodation during trekking
Necessary paper works (ACAP permit)
Trekking duffel bag and Sleeping bag for use, trekking map
An experienced guide and porters
GST @ actual (Current rate 5%)
Extra night accommodation in Kathmandu because of early arrival, late departure, early return from mountain(due to any reason) than the scheduled itinerary
Individual gear like windcheaters, feather jackets, walking sticks etc.
Meals in Kathmandu except the breakfast
Extra beverages and mineral water during the trek
Personal expenses during trek like wi-fi, battery charging, hot water bath, etc.
Emergency Medical Evacuation
Tips for guides and porter
VISA /permit / any other extra cost applicable to NON INDIAN passport holders.
Thank You for Your interest in joining this activity

Following is the procedure to register for the activity:
If you are a registered member then you can directly make payment &nbsp otherwise please follow the procedure

Step 1>> &nbsp Fill the online registration form here - Registration Form
FOR ONE DAY ACTIVITIES LIKE NISARGANAAD, CLIMBING WORKSHOP, Etc.
Step 2>>&nbsp Print and submit the self decration form - Fitness Certificate
Step 3>>&nbsp Make Payments - Activity Payment
FOR ALL OTHER ACTIVITIES LIKE COURSES, MULTIDAY TREKS, Etc.
Step 2>>&nbsp Print and submit the medical fitness certificate - Fitness Certificate
Step 3>>&nbsp Print and submit the noterized indemnity bond - Indemnity Bond
Step 3>>&nbsp Print and submit the noterized indemnity bond (Minor) - Indemnity Bond
Step 4>>&nbsp Make Payments - Activity Payment