6th Edition of GGIM's ANU launched
Guardian Giripremi Institute of Mountaineering launched its 6th Edition of Avhaan Nirmaan Udaan, a yearlong adventure educational program, meant for 10-16 years age group. Sunandan Lele, Senior Sports Journalist, during the launch ANU, addressed the viewers the importance of "Imbibing adventure culture through trekking and mountaineering in school years helps kids in personality development".
The last few months are unprecedented for all of us due to the Corona virus pandemic. Keeping this in mind, GGIM has planned new ways, new methods, new approach to embark on its 6th Edition of Avhaan Nirmaan Udaan.
Kids have a tendency to adapt to new and challenging conditions at an early age, they can figure out self-weakness and also discover new skills like teamwork, leadership if they embark on an adventure at the right age. Parents have made the right decision by enrolling the students in the innovative adventure syllabus organized by GGIM as it will help kids to understand the importance of leaving their comfort zone at right time," Sunandan Lele, Senior Sports Journalist expressed his views on the necessity of adventure in current demanding times.
Umesh Zirpe, Founder-Director, GGIM explained the purpose of adventure education to students and parents. He said, "The spread of corona virus and the lock-down have taught us the undisputed importance of physical and mental health. Outdoor education through trekking, hiking, mountaineering is one of the best ways to stay healthy. Trekkers, mountaineers, nature lovers, have in particular noticed how being in nature has taught us fundamental lessons of surviving with simplicity and positive approach. Outdoor education has subtly boosted immunity systems, imparted life skills, and gave the confidence to face adversities without losing optimism. We didn't want the kids to miss the opportunity due to the restrictions on outdoor activities. Hence, we designed the ANU course with a new approach and new methods."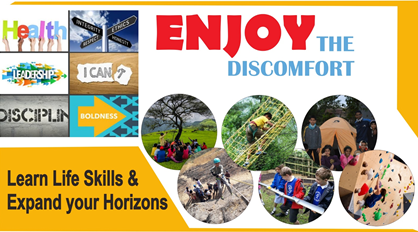 The new edition of ANU is now underway. There will be : 
Weekly Online Fitness Sessions
Webinar Series for Registered Participants
Online Readers Club
Monthly Online Sessions
The registration for the course is now open to all. All the interested students, parents can log on to www.ggim.in to know more about the course and registration process. You can also contact GGIM at 8975398886 / 9890499955 for more details.