GGIM is the first and only adventure training institute of Maharashtra and southern India. GGIM`s aim is to use skills, knowledge and the spirit of adventure from mountaineering, as a basis of delivering the outdoor adventure education across all sections of society. We provide training to organizations (Corporate, NGOs, Academic Institutions, Govt organizations etc.). Our main competency lies in Leadership and Team Building through Outbound Experiential Learning and adventure for the corporate.
Our corporate programs are an invitation to 'Take a break' from daily hassles of our routine lifestyles and indulge in experiencing the thrills of outdoor adventures.
Such small breaks are not only the refreshing times but we believe that they surely help develop a sense of confidence in one's capabilities and a feeling of togetherness with your teams and families.
These programmes are highly customizable and based on requirements we can conduct half day/ one day/ overnight or Multi days.
A motivational Leadership Lecture Series by Giripremi's top-notch mountaineers and speakers. Please see the brochure here.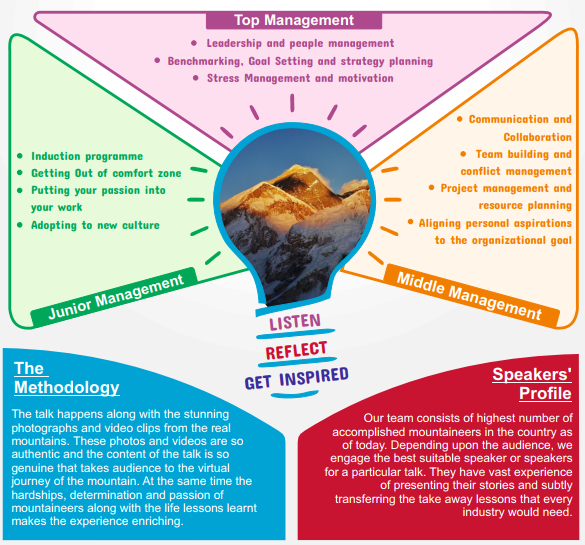 VolksWagon 
Adient
L&T
John Deere
Indo Schottle
Enpro Industries Pvt Ltd
Magna